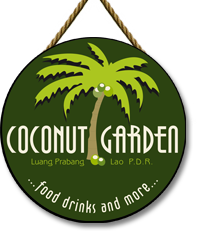 SAVOURS IN SOUTH EAST ASIA
Thailand, Cambodia, Laos and Vietnam each possess original gastronomy. The cultures share a few customs, and similar dishes can be found throughout the region.
Lao cuisine relies heavily on herbs and vegetables, wild or cultivated. From simple grills to complex dishes, each dish is cooked or served with fresh herbs (mint, coriander, lemongrass etc.). A meal is composed of a number of small dishes, accompanied by sticky or glutinous rice.
Coconut Garden - Sisavangvong Road - Luang Prabang - Laos
coconutgarden@elephant-restau.com - Tél. 856 71 254 504 - Fax 856 71 252 492 -

Contact, Map & Reservation